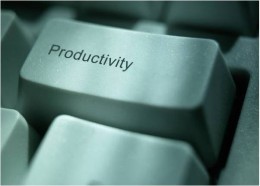 For many companies, the culture, energy and overall industry are major influences in the productivity and efficiency of an eight hour work day. Rather than assume that a company's culture is derived from the occasional 'Hawaiian Shirt Thursdays,' or that the energy is only as vibrant as the personalities in it, upper-management should consider alternate ways to increase output while upping the "oomph."
Oftentimes the idea of thinking outside the box seems worthy of a week-long, company-wide brainstorm, when instead innovative ideas can be found in the everyday chatter of employees and within the commonly grey-colored walls of the office.
Bring the building to life.
Consider pulling up the blinds to let in natural light. Studies have found that natural light boosts productivity and stimulates the mind through better vision, health and mood.
Think about stationing plants in various parts of the office. They not only add oxygen to the air during photosynthesis, but can even remove chemicals that are released through cleaning products, printers, copiers and dust.
Allow pets at work! This doesn't work for all office buildings— but if there's a will, there's a way. Having cats and dogs roam the barren halls from the hours of 9-5, can brighten the mood and revitalize the energy of the staff. Be sure to clear this with the landlord first!