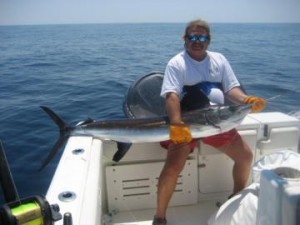 As the CEO of a small entrepreneurial business, it can be a 24-hours, seven days a week, 365-days-a-year environment. Most of my waking hours are spent thinking about ways to improve business. It's easy to do. It's your baby, your life, your source of income, your retirement.
Just because it can be, doesn't mean it should be. In order to be successful and stay focused and not risk burn out or complacency it is important to have a healthy work-life balance for relaxation, clarity and overall well-being for yourself and your employees.
Balancing the demands of work with the demands outside work is a common issue felt by employees of all ranks worldwide.
An EY global survey of 9,700 full-time workers aged 18-67 in eight countries found that one third of respondents struggle with managing work-life balance, which has become more difficult, particularly in the past five years. Younger generations and parents are hit hardest with this task.
For me, fishing is my release. My mental break includes salt-water ocean fishing, drifting in my boat with friends, inshore fishing for fluke and sea bass, or offshore fishing for tuna, mahi or marlin. Fishing is great for relaxation and a simple cleansing of the mind, which makes it easier to stay sharp and focused at work.
Boating a big tuna or marlin takes a lot of teamwork, which reinforces that it is not always about you. Behind every successful entrepreneur is a great team. With all that this natural playground has to offer, it allows for a relaxing day.
I encourage all of my staff to find their own way to enjoy work-life balance. We also try and build some downtime into the CMA calendar throughout the year for some mental breaks during the work day.
Now that it is summer, we hold monthly barbecues for the staff where everyone gets to step away from their desk, kick back and relax during the day. It is also a way for the staff to recharge and to get to know each other better with a team building activity.
In the fall, we have a Halloween decorating contest, a pre-Thanksgiving luncheon before the long holiday weekend, plus many other activities throughout the year. These fun, mini-breaks are also a way to show appreciation for all the hard work they do all year long.
The EY survey found 62 percent of full-time employees in the United States had a spouse/partner who worked more or less 9 a.m. to 5 p.m. five days a week. Another 19 percent said their spouse/partner worked full-time, but with flexible hours
We also try to allow some flexibility in the work schedule, knowing most employees are managing care for loved ones, and understand that you can't always get a doctor's appointment after 5 p.m. or on a Saturday. It is beneficial to them and CMA if they know they can take the time they need to take care of their family. They return to work much more focused on the task at hand, with a settled mind.
Our employees know that we understand they have a life outside the office. In return, we have found they are more willing to give more for our clients.