Jeffrey Barnhart recognized as Distinguished Graduate by Hopewell Valley Central High School
PRINCETON JUNCTION, N.J. – Oct. 21, 2016 – Jeffrey Barnhart, president and CEO of Creative Marketing Alliance (CMA), a full-service, award-winning strategic marketing communications firm, was inducted yesterday into the Hopewell Valley Distinguished Graduates Hall of Fame for his outstanding career and many accomplishments.
Barnhart, a member of the Class of 1973, joined 45 other esteemed graduates from Hopewell Valley Central High School into the Hall of Fame.
"I'm very honored to be recognized as a Distinguished Graduate," said Barnhart, a lifelong-Mercer county resident. "You never realize the impact you have on your community until something like this happens."
Barnhart was recognized on Oct. 20 at Mountain View Country Club in Ewing.
"I'm living proof that if you want something bad enough, you set your sights on it and don't let go," said Barnhart, whose firm will mark 30 years in business next year. "The secret is hard work, but if you love what you do, it is true you will never work a day in your life. It has been said that if you get excited about Friday, you have a job, but if you get excited about Monday, you're following your passion. I love Mondays."
"Jeff was chosen based on his experiences and many incredible accomplishments," said Tana Smith, Hopewell Valley Central High School principal. "He is a great role model for our students and one they can look up to."
After graduating Hopewell Valley Central High School, Barnhart went to Rider University in Lawrenceville and graduated with a degree in journalism and a marketing minor.
Throughout his more than 40-year career, Barnhart, now a West Windsor resident, has developed and implemented successful marketing campaigns to help numerous companies grow and achieve their strategic imperatives. Prior to founding CMA, his extensive background included the integration of sales and marketing through three mergers at Philips Lighting as the director of marketing communications. While at Philips, Barnhart led the launch of compact fluorescent lamps, one of the first energy-efficient, environmentally beneficial lighting products in the U.S. market.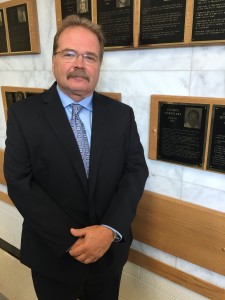 Shortly after founding CMA in 1987, he was instrumental in working with the Environmental Protection Agency (EPA) to develop and initiate the Green Lights program to encourage U.S. corporations to install energy-efficient lighting technologies. This was the first program that advocated using new lighting technologies to reduce electricity demand—the precursor to the current Energy Star program.
One of CMA's first clients was a credit card manufacturer that hired CMA to rebrand the company.
Working with this card manufacturer led Barnhart to launch the International Card Manufacturers Association (ICMA) in 1989. He saw there was no association representing credit card manufacturers and personalizers that focused on manufacturing cards, the equipment and the raw material that make up the card.
In addition to collecting more than 325 awards for the work CMA has produced throughout the years, Barnhart was named the first Entrepreneur of the Year by the Princeton Regional Chamber of Commerce in 1993 and CMA was named 2016 Outstanding Small Business of the Year by the MIDJersey Chamber of Commerce.
"The biggest lesson I learned during my time at Hopewell Valley High School is don't be afraid to fail," Barnhart said. "I've made more mistakes than anybody else in my company; I've also made more right decisions. The secret is to learn from your mistakes and never repeat them. Without the opportunity to fail, you will never succeed. It's like taking the training wheels off of the bicycle."
For more information about Creative Marketing Alliance, visit GoToCMA.com.
###
About Creative Marketing Alliance
Creative Marketing Alliance (CMA) is a full-service, strategic marketing communications firm that delivers award-winning campaigns, recommendations and return-on-investment (ROI). CMA builds brands from a client-side, value-based perspective. It successfully launches and manages integrated marketing programs using Marketecture™, a strategic analysis process that helps clients understand how their company can be best positioned. Based in Princeton Junction, N.J., for more than 29 years, CMA provides innovative solutions in the areas of traditional design, interactive design, publications, public relations and social media with an in-house studio for advertising and creative design. For more information, please visit GoToCMA.com, call 609-297-2235 or email us at info@cmasolutions.com.