By Jeffrey Barnhart
The holiday season is one of the most ideal times of the year for companies to build their brand. For many industries, the time period between Thanksgiving and the end of the year is prime selling season because people are in the holiday spirit, a celebratory mood that prompts them to buy. Companies should capitalize on this sentiment by raising their brand awareness in a meaningful and memorable way. This will enable you to cut through the holiday noise and keep your brand top of mind.
Here are some tips to consider, when promoting your brand this holiday season:
1) Be Creative
This is one of the few times throughout the year when companies can be ultra imaginative with their holiday branding, which should be an extension of your general branding, by using festive colors and clever concepts. Throughout the creative process, be sure to stay authentic to your existing brand that's been established. My company, Creative Marketing Alliance (CMA), has been generating a uniquely branded holiday card for more than 25 years. Fun photos of the firm's employees are strategically placed throughout the design. The combination of creativity and people reinforces CMA's branding, services and corporate culture. There's a different theme each year, which has included a champagne pop to celebrate our 30th anniversary, superheroes, rock n' roll and the CMA Crew's favorite holiday ornaments. While we anticipate getting heartfelt holiday cards from friends and family, we don't expect them from businesses. Sending those types of cards has been an excellent tool for CMA to build and maintain strong business relationships.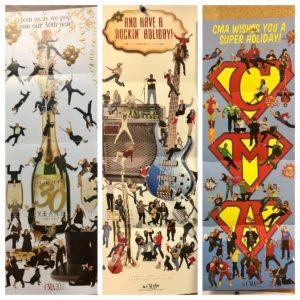 2) Be Known For Something
In addition to being more outside of the box with your branding during the holidays, think about ways your company can be known for something that your customers will look forward to year after year. You want to choose something that not only showcases your expertise in your industry, but is unique, differentiates you from competitors and showcases shared values with your customers. According to the Harvard Business Review, marketers should build brand loyalty on shared values with its consumers. This will make your company more relatable, position you as an industry leader and make your company known for whatever it is your branding is trying to convey. Lexus has their annual "December to Remember" sale each year. The company began "December To Remember" and the red bow tied around a vehicle in the driveway in 1999. During the last two decades, Lexus's leadership in highlighting holiday-season sales has led to a transformation of the period—and particularly December—from a relatively sleepy time for U.S. auto sales into one of the most interesting and creative, according to Forbes. Likewise, in December, CMA has become known for its holiday card. Our clients, prospects and friends look forward to seeing it each year, which has resulted in an increasingly higher response rate.
3) Be On Multiple Channels
Once you've established holiday branding that checks all of the boxes, share it through multiple channels. Print, digital and social are all good outlets to consider. In addition to mailing the CMA holiday card, we also produce a digital version that we share through an e-blast and throughout all of our social media channels, so people can interact and engage. It's essential to keep the digital execution of the card interesting and dynamic, such as producing a platform where people can be a part of the conversation. The branding also needs to be consistent across all channels, so it will continue to resonate with your customers. The average revenue increase attributed to presenting the brand consistently is 23 percent, cited by Lucidpress.
Would you like to learn more about how you can elevate your presence in your market and enjoy success? Let's begin that process today.
Have a happy and healthy holiday season!
Jeffrey Barnhart is founder and CEO of CMA, a full-service, award-winning strategic marketing and association management firm that builds reputation, relationships and return on investment. He can be reached at jbarnhart@cmasolutions.com.